Good Evening Blogger Friends!! I wanted to touch base with everyone. I tell you we have been busy here in South Carolina!! We have had people looking at the house since Sunday afternoon. Everyday before I go to work , I get the real life picked up and set the house up for showing.
Our Realtor called tonight to let us know that a potential buyer was trying to decide between our house and another. They do not like that we don't have a HOA, but are really liking our house. Pray for us that it sells soon. I am tired. LOL.
I thought I would share some treasures from this past weekend for show and tell friday. Please join Cindy at My Romantic Home for Show and Tell Friday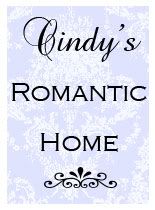 While my husband was out golfing this past Saturday, I went to yard sales, Goodwill, and did some shopping at a store we have here called Ole Time Pottery. I thought I would share this little cream colored urn and the hydrangeas I bought. The urn was 4.00 and hydrangeas were a 1.99 a stem. I know, I know I could have bought the vase for 50 cents and flowers alot cheaper at yard sale. But sometimes , you just have to have something new. I wanted to freshen my kitchen table up a bit since we are showing our house to potential buyers.
OMG!! This was my most favorite find of the weekend. A Susan Branch Scrapbook/cookbook. Never been opened , brand new. For 2.00. I don't know what the cost in a retail store would be, but 2.00 was a bargain for me.
I thought I would show you some pages from the scrabook.
Page from Susan Branch scrapbook!
A page from the Susan Branch scrap book.
These three little plastic storage canisters cost 1.50. I thought they would be great to store pasta, rice or even craft beads and supplies!! The colors are blue, purple and pink.
This little gravy bowl was 50 cents at a yard sale this past weekend. It says on the bottom it is made in USA. I will buy anything made in our country to support our country.